Hereditary Transthyretin Amyloidosis (hATTR) Market Insights, Competitive Landscape, and Market Forecast 2032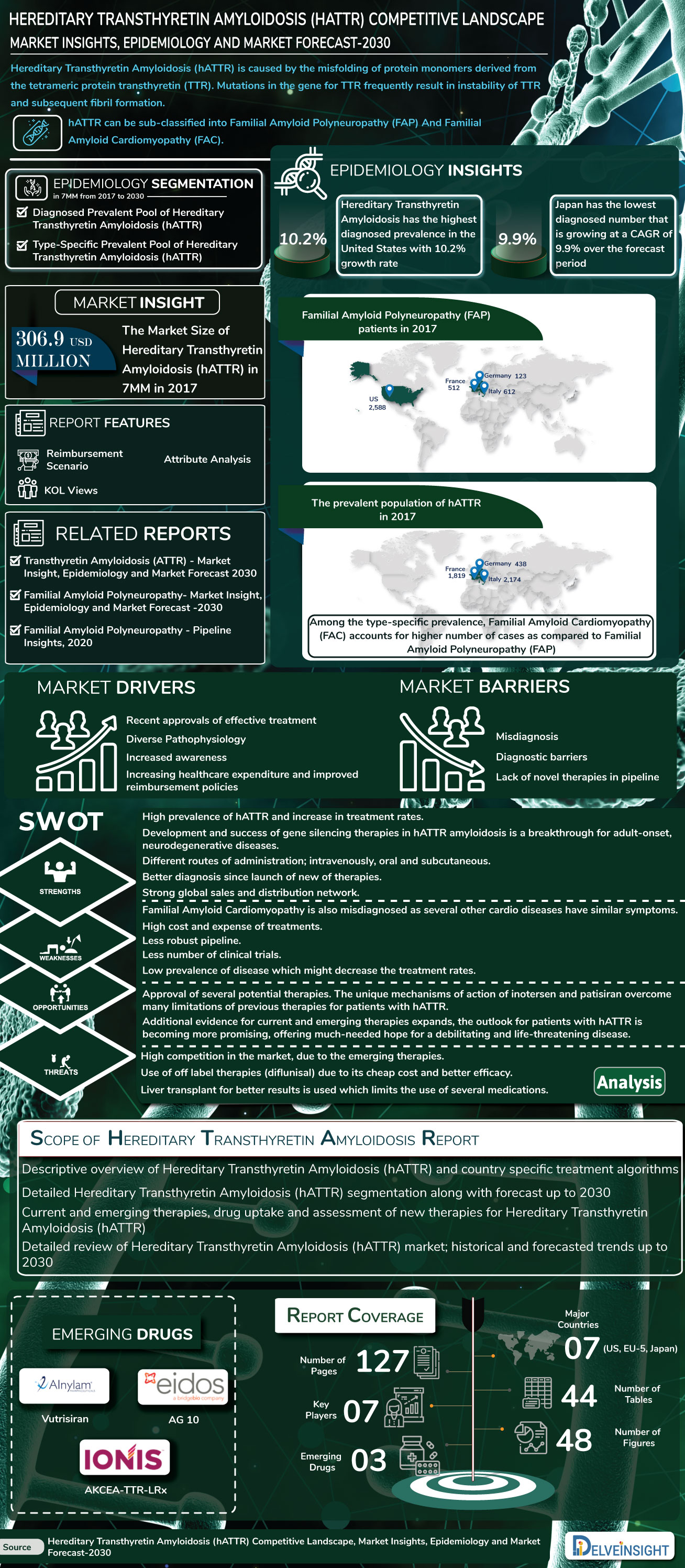 DelveInsight's 'Hereditary Transthyretin Amyloidosis (hATTR) Market Insights, Epidemiology and Market Forecast– 2030' report delivers an in-depth understanding of the hATTR, historical and forecasted epidemiology as well as the hATTR market trends in the United States, EU5 (Germany, Spain, Italy, France, and United Kingdom), and Japan.
Hereditary Transthyretin Amyloidosis (hATTR): An Overview
Transthyretin (earlier known as prealbumin) is an abundant, soluble, β-strand rich 55 kDa homotetramer serum protein that is responsible for the transportation of both vitamin A (via retinol-binding protein) and thyroxin throughout the body. TTR is also involved in the binding and redistribution of β-amyloid in the choroid plexus as well as in the retention of T4 in the cerebral spinal fluid (CSF). TTR may sometimes dissociate into its 127-amino acid monomeric subunits and undergo aberrant changes to form amyloidogenic intermediates. These intermediates then might self-associate to become amyloid fibrils that accumulate as amyloid deposits throughout the body, resulting in Transthyretin Amyloidosis. Transthyretin Amyloidosis (ATTR) can be sub-classified as wild-type (wt) or hereditary, and the latter is then further sub-divided into familial amyloid polyneuropathy (FAP) and familial amyloid cardiomyopathy (FAC).
Download a sample copy of the report @ https://www.delveinsight.com/sample-request/hereditary-transthyretin-amyloidosis-competitive-landscape-and-market
Key Findings of the Hereditary Transthyretin Amyloidosis (hATTR) Report
The total diagnosed prevalent cases of hATTR in the 7MM were estimated to be 13,540 in 2020 growing at a CAGR of 5.05% during the study period (2018–2030).
Epidemiology assessed for the condition showed that the US, in 2020, accounted for approximately 15,312 prevalent cases of hATTR.
Among the EU-5 countries in 2020, France had the highest diagnosed prevalent cases of hATTR with 1,480 cases. In contrast, Germany had the lowest cases (518) in 2020.
Japan accounted for 648 diagnosed prevalent hATTR cases in 2020.
In the EU-5, NYHA Class II (748) accounted for the highest cases in 2020, followed by NYHA Class III (303) and NYHA Class I (175).
Among the stage-specific diagnosed prevalent contribution, in Japan stage 3 cases were observed to be 47 and stage 1 cases were 180 in 2020.
Hereditary Transthyretin Amyloidosis (hATTR) Marketed Drugs
Vyndaqel: Pfizer
Vyndaqel (tafamidis meglumine 20 mg) and Vyndamax (tafamidis 61 mg) are oral transthyretin stabilizers indicated for the treatment of the cardiomyopathy of wild type or hereditary transthyretin-mediated amyloidosis in adults to reduce cardiovascular mortality and cardiovascular-related hospitalization. Tafamidis is a selective stabilizer of transthyretin. Tafamidis binds to transthyretin at the thyroxine-binding sites, stabilizing the tetramer and slowing dissociation into monomers, the rate-limiting step in the amyloidogenic process.
Previously, in November 2012, the US FDA had accepted for review the New Drug Application (NDA) for tafamidis meglumine for the treatment of Transthyretin Familial Amyloid Polyneuropathy (TTR-FAP) along with granting the tafamidis NDA a priority-review designation and had also provided an anticipated Prescription Drug User Fee Act (PDUFA) action date as June 2012.
Onpattro: Alnylam Pharmaceuticals
Onpattro (patisiran) contains a transthyretin-directed small interfering RNA and is indicated for the treatment of the polyneuropathy of hereditary transthyretin-mediated amyloidosis in adults. Patisiran is a double-stranded siRNA that causes degradation of mutant and wild-type TTR mRNA through RNA interference, which reduces serum TTR protein and TTR protein deposits in tissues. It is supplied as a sterile, preservative-free, and white to off-white, opalescent, homogeneous solution for intravenous infusion in a single-dose glass vial.
The drug is currently undergoing Phase III APOLLO-B study evaluating the drug in participants with ATTR with cardiomyopathy. The APOLLO-B study completed enrollment in June 2021 and is expected to have topline data available in mid-2022. Based on those data and subsequent regulatory interactions, the potential path forward for a HELIOS-B Phase III study of another investigational vutrisiran in patients with transthyretin-mediated amyloidosis with cardiomyopathy-interim analysis will be further refined, including the potential for an earlier readout of topline results.
Tegsedi: Akcea Therapeutics/Ionis Pharmaceuticals
Tegsedi (inotersen) is a transthyretin-directed antisense oligonucleotide. Tegsedi is specifically indicated for the treatment of the hATTR-PN in adults. Tegsedi is supplied as a solution for subcutaneous injection. Due to safety concerns of Tegsedi (thrombocytopenia and glomerulonephritis), the drug is available only through REMS (Risk Evaluation and Mitigation Strategy) programme.
Recommended dose: 284 mg injected subcutaneously once weekly. For dosing consistency, patients should be instructed to give the injection on the same day every week. If a dose is missed, patients should be instructed to take the missed dose as soon as possible, unless the next scheduled dose is within 2 days. In this situation, the patient should be directed to skip the missed dose and take the next scheduled dose on the scheduled day.
Discover more information about the report @ https://www.delveinsight.com/sample-request/hereditary-transthyretin-amyloidosis-competitive-landscape-and-market
Hereditary Transthyretin Amyloidosis (hATTR) Emerging Drugs
Vutrisiran: Alnylam Pharmaceuticals
Vutrisiran is an investigational, subcutaneously-administered RNAi therapeutic in development to treat ATTR amyloidosis, which encompasses both hereditary (hATTR) and wild-type (wtATTR) amyloidosis. It is designed to target and silence specific messenger RNA, blocking the production of wild-type and mutant transthyretin (TTR) protein before it is made.
Quarterly and potentially biannual administration of vutrisiran may help reduce deposition and facilitate the clearance of TTR amyloid deposits in tissues and potentially restore function to these tissues. Vutrisiran utilizes Alnylam's next-generation delivery platform known as the Enhanced Stabilization Chemistry (ESC)-GalNAc-conjugate delivery platform, designed for increased potency and high metabolic stability that may allow for infrequent subcutaneous injections. The drug is currently in the Phase III stage of development.
Eplontersen: Ionis Pharmaceuticals/ AstraZeneca
Eplontersen, formerly known as ION-682884, IONIS-TTR-LRx, and AKCEA-TTR-LRx, is a ligand-conjugated (LICA) investigational antisense medicine designed to reduce the production of transthyretin, or TTR protein, to treat all types of ATTR. In patients with ATTR, both the mutant and wild-type TTR protein builds up as fibrils in tissues, such as the peripheral nerves, heart, gastrointestinal system, eyes, kidneys, central nervous system, thyroid, and bone marrow. The presence of TTR fibrils interferes with the normal functions of these tissues. As the TTR protein fibrils enlarge, more tissue damage occurs, and the disease worsens, resulting in poor quality of life and eventually death.
The drug is currently advancing into the Phase III stage of clinical development activity for hATTR polyneuropathy and ATTR cardiomyopathy, with data readout expected in 2022 and 2024, respectively. The company has achieved complete enrollment in the Phase III NEURO-TTRansform study of eplontersen in patients with TTR polyneuropathy and is expected to release data by mid-2022.
Acoramidis (AG 10): Eidos Therapeutics
Licensed from Stanford University in 2016, acoramidis (formerly AG10) is an investigational, orally-administered small molecule being developed by Eidos Therapeutics (a subsidiary of BridgeBio Pharma), designed to potently stabilize tetrameric transthyretin or TTR, thereby halting at its outset the series of molecular events that give rise to TTR amyloidosis, or ATTR. AG10 was designed to mimic a naturally-occurring variant of the TTR gene (T119M) that is considered a rescue mutation because co-inheritance has been shown to prevent or ameliorate ATTR in individuals also inheriting a pathogenic or disease-causing mutation in the TTR gene. AG10 is the only TTR stabilizer in development that has been observed to mimic the stabilizing structure of this rescue mutation.
Acoramidis is currently being studied in a Phase III clinical trial in patients with ATTR-CM (ATTRibute-CM) and a Phase III clinical trial in patients with ATTR-PN (ATTRibute-PN). The company has reported the enrollment of 632 participants in the ATTRibute-CM Phase III study and anticipates top-line data to be released in 4Q 2021 or early 2022; for Part B, the top-line data is expected to be published in 2023. It expects the filing for NDA submission and MAA for Phase III clinical trial in patients with ATTR-CM (ATTRibute-CM) in mid- 2022 and the launch of top-line data for acoramidis (Phase III clinical trials) in patients with ATTR-PN (ATTRibute-PN) in 2024.
CRX-1008 (Tolcapone; SOM0226): Corino Therapeutics
CRX-1008 (also known as Tolcapone; SOM0226) is an investigational and potent small molecule stabilizer of TTR that is under development by Corino Therapeutics in the Phase II stage of development for the treatment of familial amyloid polyneuropathy (FAP). It is a repositioned compound that acts by imitating the process of binding thyroxine to TTR in the bloodstream and is administered via the oral route. It inhibits TTR tetramer dissociation into monomeric TTR and prevents the accumulation of amyloid in various tissues. CRX-1008 has unique and differentiated activity compared to other kinetic stabilizers, including the ability to cross an intact blood-brain barrier.The company has completed multiple clinical proofs of concept studies to evaluate the safety, tolerability, and TTR stabilization activity of CRX-1008. Data from these studies are expected in 2021, and the company further plans for Phase II/III studies.
Hereditary Transthyretin Amyloidosis (hATTR) Market Outlook
Hereditary Transthyretin Amyloidosis (hATTR) market has been assessed, based on demand, prescription analysis and the annual cost of therapy of current and forecasted market value of the approved drugs, Vyndaqel, Onpattro, Tegsedi in the US, Europe, and Japan as well as forecasted patient share and the annual cost of therapy for upcoming medicines. Supportive therapies like Diflunisal, other symptomatic drugs for TTR-FAP and recommended symptomatic drugs like loop diuretics, aldosterone antagonists, angiotensin-converting enzyme inhibitors, and beta-blockers have been considered for hATTR market estimation. Liver transplantation is the most common treatment method in hATTR amyloidosis, as the liver is the main source of abnormal TTR production. This procedure is most effective in patients who are in the early stages of the disease.
To get more related information about the report @ https://www.delveinsight.com/sample-request/hereditary-transthyretin-amyloidosis-competitive-landscape-and-market
Hereditary Transthyretin Amyloidosis (hATTR) Diagnosis
Diagnosis can be confirmed via biopsy of the affected tissue or organ followed by staining with Congo red to confirm the presence of amyloid. Diagnosis can be established less invasively through biopsy of the salivary gland, endoscopic biopsy of the gastric mucosa, or subcutaneous fat aspiration. Western blot analysis, immunohistochemical staining, laser microdissection, proteomics, and mass spectrometry are subsequently used to characterize amyloid type. Limitations of biopsy are due to the often patchy distribution of amyloid deposits, sometimes necessitating multiple biopsies to confirm or exclude the diagnosis. Additionally, biopsy sensitivity depends on multiple factors, such as pathologist experience and protocol for Congo red staining. In patients with a family history of disease and/or evaluation of symptomatic burden (ie, polyneuropathy), genetic testing is a crucial component to confirm a hATTR amyloidosis diagnosis as it identifies the specific TTR mutation present. Presymptomatic testing is now widely available and may be performed at the request of the patient with appropriate genetic counseling and follow-up.
Hereditary Transthyretin Amyloidosis Treatment
Current treatment options for patients with TTR amyloidosis are limited, with only symptomatic treatment and transplantation. For patients diagnosed with TTR-FAP who have the mild or moderate disease and confirmed by genetic testing and biopsy, a liver transplant is the current standard of care. However, symptomatic treatment is used to provide immediate relief.
Since variant TTR is mainly produced in the liver, transplanting a new liver should almost eliminate the production of variant protein and further halt the disease progression outside the brain and eyes. However, liver transplant does not effectively prevent cardiomyopathy in most cases and is not recommended for patients with late-stage TTR-FAP or with leptomeningeal-type amyloidosis. Thus, for these patients, symptomatic relief is the only available treatment. The very first pharmacologic agent to receive approval for the treatment of TTR-FAP was in 2011 and many other agents are in various stages of development.
Table of Content
1. Key Insights
2. Report Introduction
3. Market Overview at a Glance
4. Executive Summary
5. Key Events
6. SWOT Analysis
7. Disease Background and Overview
8. Treatment
9. Epidemiology and Patient Population
10. Organizations contributing toward hereditary transthyretin amyloidosis (hATTR)
11. Patient Journey
12. Marketed Drugs
13. Emerging Drugs
14. Seven Major Market Analysis
15. KOL Views
16. Market Drivers
17. Market Barriers
18. Unmet Needs
19. Market Access and Reimbursement
20. Appendix
21. DelveInsight Capabilities
22. Disclaimer
23. About DelveInsight
About Us
DelveInsight is a Business Consulting and Market research company, providing expert business solutions for life science vertical and offering quintessential advisory services in the areas of R&D, Strategy Formulation, Operations, Competitive Intelligence, Competitive Landscaping, and Mergers & Acquisitions.
Media Contact
Company Name: DelveInsight Business Research LLP
Contact Person: Yash Bhardwaj
Email: Send Email
Phone: 9193216187
Address:304 S. Jones Blvd #2432
City: Las Vegas
State: NV
Country: United States
Website: https://www.delveinsight.com/