5G in Healthcare Market Sale to hit US$ 3,667 Million by 2026 and expand at a CAGR of 76.3%, says MarketsandMarkets™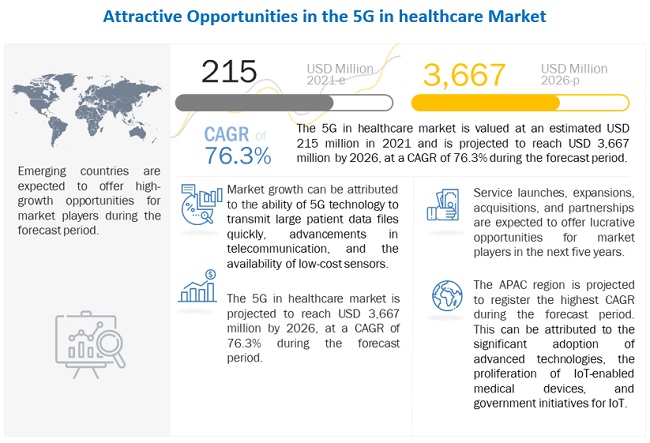 5G technology promises to revolutionize healthcare. It will enable doctors to deliver better and faster care, saving time and money, while providing better patient outcomes.
The global 5G in healthcare market is segmented into five major regions, namely, North America, Europe, the Asia Pacific, Latin America, and the Middle East & Africa. Asia Pacific accounted for the largest share of 33.8% of the global market.
5G in healthcare market in terms of revenue was estimated to be worth $215 Million in 2021 and is poised to reach $3,667 million by 2026, growing at a CAGR of 76.3% from 2021 to 2026 according to a latest report published by MarketsandMarkets™. 5G stands for the fifth generation of mobile communication technology. With each generation's new technology and standards, there have been improvements in transmission speed and network capacity. 5G represents a big leap in cellular technology and in healthcare by providing essential levels of connectivity to enable a new health ecosystem, one that can meet the needs of patients and providers accurately, efficiently, cost-effectively, conveniently, and at a substantial scale. This massive network will include billions of low-bitrates and low-energy connected health monitoring devices, remote sensors, and clinical wearables, with 5G providing a backbone infrastructure for IoT.
5G technology is expected to revolutionize the healthcare sector in the coming years due to its higher bandwidth and faster speed. The adoption of 5G technology in healthcare can help healthcare providers in providing better services to their patients. This technology can help in improving the quality of healthcare services and reduce the cost associated with healthcare services.
Download PDF Brochure: https://www.marketsandmarkets.com/pdfdownloadNew.asp?id=248695375
Top 3 use cases of 5G in healthcare market:
Telemedicine: 5G will enable real-time, high-quality medical video streaming, allowing doctors to remotely diagnose and treat patients. This will revolutionize healthcare by making medical care more accessible and affordable, as well as reducing wait times and eliminating the need to travel for medical appointments.
Wearable Devices: With 5G, healthcare providers will be able to monitor and track patient health data in real-time using connected wearable devices. This will help doctors stay on top of their patients' health conditions, detect any warning signs early, and provide timely interventions to prevent any further deterioration.
Augmented Reality: 5G will enable healthcare providers to use augmented reality (AR) for medical imaging and visualization. This will provide doctors with a more accurate and detailed view of their patients' conditions, allowing them to make better and more informed decisions. AR can also be used to train medical students, allowing them to get a more holistic view of the human body.
The introduction of 5G technology in healthcare has enabled the development of several advanced applications such as remote patient monitoring, telemedicine, and artificial intelligence. These advanced applications enable healthcare providers to provide better services to their patients and improve the overall efficiency of healthcare services.
5G technology is expected to provide better data security and enable healthcare providers to store large amounts of data securely. It can also help healthcare providers in reducing the time taken to process medical images and other medical data.
The increasing adoption of mobile devices and the growing demand for advanced healthcare monitoring systems are the major factors driving the 5G in healthcare market. The growing demand for advanced telemedicine services and the increasing adoption of connected healthcare systems are also expected to fuel the market growth.
The increasing investments in 5G technology by governments of various countries are expected to create favorable opportunities for the 5G in healthcare market. Companies operating in the market are also focusing on developing advanced 5G enabled healthcare solutions to meet the growing demand.
Request Sample Pages: https://www.marketsandmarkets.com/requestsampleNew.asp?id=248695375
Key Market Players
The prominent players in the market are AT&T (US), Verizon (US), China Mobile Limited (China), Qualcomm (US), T-Mobile (US), Ericsson (Sweden), Telit (Poland), Telus (Canada), Vodafone (UK), Nokia (Finland), Samsung (South Korea), Deutsche Telekom AG (Germany), Orange S.A. (France), SK Telecom Co., Ltd. (South Korea), BT Group (UK), NTT DOCOMO (UK), NEC Corporation (Japan), Telefónica (Spain), Airtel (India), Huawei Technologies Co., Ltd. (China), and Cisco (US). These companies adopted strategies such as service launches, business expansions, agreements, partnerships, collaborations, and acquisitions to strengthen their presence in the 5G in healthcare market.
AT&T
AT&T is the leading player in the 5G healthcare market. AT&T provides its global SIM-enabled connectivity in more than 200 countries and across 500 carriers, which would provide fast and highly secure equipment connectivity to enterprises and help them deploy more devices using IoT and M2M technologies.
Notable 5G in healthcare mergers and acquisitions
AT&T and Telefónica: AT&T announced plans to acquire Telefónica's U.S.-based MVNO business, which will help it expand its 5G network into the healthcare sector.
Apple and CVS Health: Apple and CVS Health announced a partnership to launch a new health and wellness service, which will leverage the power of 5G to allow patients to access digital health services.
Microsoft and NTT DoCoMo: Microsoft and NTT DoCoMo announced a joint venture to create a 5G-based healthcare platform for Japanese consumers.
Ericsson and Philips: Ericsson and Philips announced a strategic alliance to develop 5G-enabled medical devices and healthcare solutions.
Verizon and Samsung: Verizon and Samsung announced a strategic partnership to develop 5G-enabled healthcare solutions and services.
Get 10% Free Customization on this Report: https://www.marketsandmarkets.com/requestCustomizationNew.asp?id=248695375
Media Contact
Company Name: MarketsandMarkets™ Research Private Ltd.
Contact Person: Mr. Aashish Mehra
Email: Send Email
Phone: 18886006441
Address:630 Dundee Road Suite 430
City: Northbrook
State: IL 60062
Country: United States
Website: https://www.marketsandmarkets.com/Market-Reports/5g-healthcare-market-248695375.html